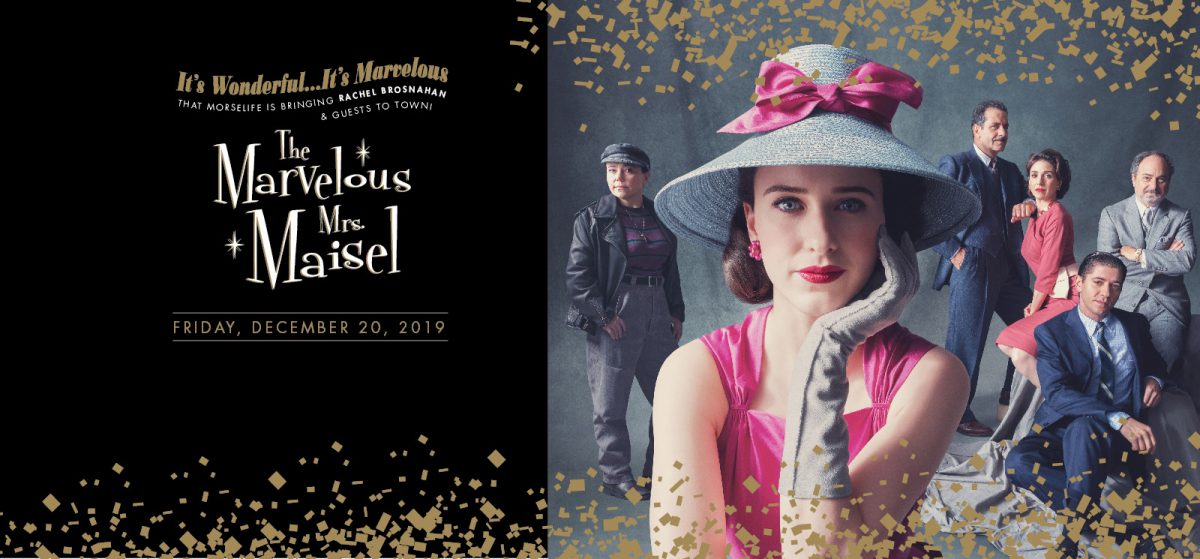 Guests are in for a real treat when Rachel Brosnahan, Emmy Award-winning star of the hit TV show The Marvelous Mrs. Maisel, lends her vocals and takes center stage at MorseLife Health System's "Marvelous 36th Birthday Celebration," taking place at The Breakers on Friday, December 20, 2019. Chairs Jean S. Sharf and Bruce A. Beal, Sr. are leading the celebration joined by Honorary Chairs Sondra and David S. Mack.
"As a thank you to our donors that have helped us evolve our vision for the past 36 years through their invaluable contributions to our campus, we wanted to host one of the best events in the history of MorseLife," said Keith A. Myers, President and CEO of MorseLife Health System. "We are continually seeking new ways to enable seniors to live healthy and meaningful lives and we could not provide them with excellent care without the commitment by MorseLife supporters. We have so much to celebrate and even more to look forward to!"
The Birthday Celebration kicks off the season of social events for MorseLife Health System, the nationally recognized preeminent provider of senior care in Palm Beach County.
"We are thrilled that Rachel Brosnahan will be bringing her award-winning humor to the MorseLife's 'Marvelous 36th Birthday Celebration' on December 20th," noted Jean S. Sharf, chairwoman. "Rachel is hilarious, glamorous and incredibly talented," added Chairman Bruce A. Beal, Sr. "Everyone loves The Magnificent Mrs. Maisel, so we are no doubt heading for a sellout!"
Brosnahan currently plays Miriam 'Midge' Maisel in the hit TV series, The Marvelous Mrs. Maisel. Since the show's premiere in November 2017, Brosnahan has received the Golden Globe and Critics' Choice awards for Best Actress in a Comedy Series, along with the show itself earning a Golden Globe and Critics' Choice award for Best Comedy.
"This year's celebration will be an evening to remember honoring MorseLife's 36 years of accomplishments and toasting its longtime friends and supporters," noted Joan Bever, Vice President of Events. "In addition to Brosnahan's amazing performance, guests will be treated to a delectable 3-course dinner, lavish décor and a night full of dancing. The benefit will be a reminder that MorseLife not only provides health and a higher quality of life to the residents that live on campus, but also the frail, homebound and needy seniors that live in our community."
The long-standing mission of MorseLife is to enhance and improve the lives of seniors in its care. A charitable, not-for-profit organization, its programs include short-term rehabilitation, long-term care, independent and assisted living, hospice and palliative care, home health care, care management, memory care, meals-on-wheels and PACE.
Founded in 1983, MorseLife has built a reputation and tradition of caring for seniors with excellence, dignity and compassion — honoring senior living — now and forever. MorseLife means More Life.
The exclusive magazine partner for the "Marvelous 36th Birthday Celebration" is Palm Beach Illustrated.
To purchase tickets for the "Marvelous 36th Birthday Celebration" and for more information, please email events@morselife.org or call 561.242.4661.