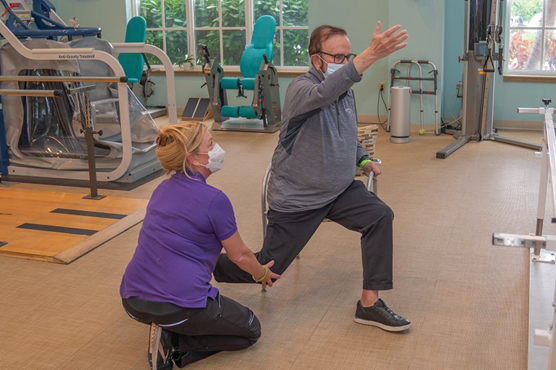 MorseLife Expands Parkinson's Therapy Services in Palm Beach County
April is Parkinson's Awareness Month, and at MorseLife, we are taking actions to positively impact the futures of those who have Parkinson's Disease in Palm Beach County. We recently announced the expansion of our pioneering program for people with Parkinson's Disease, which is now available at the MorseLife campus on an outpatient basis. The expansion of Parkinson's Therapy at MorseLife broadens access to the effective and evidence-based Lee Silverman Voice Treatment (LSVT) therapy program. It offers highly individualized Parkinson's treatment plans led by certified therapists.
Parkinson's Therapy at MorseLife was initially created to meet the distinctive needs of MorseLife's long-term care residents who suffered from Parkinson's Disease or other movement-related disorders. Launched in 2020 the program has positively impacted the lives of many MorseLife patients.
Research conducted by MorseLife reports that program participants have shown significant improvements in daily functioning. Remarkably, 100% of patients report that their balance function has either improved or maintained, while 92% report improved fine motor skills, 95% report improved muscle strength, and 83% report increased success in completing daily care.
Today, MorseLife is setting a new standard treating of Parkinson's Disease in Palm Beach County by extensively evaluating each patient and providing a highly personalized treatment plan. Parkinson's Therapy at MorseLife relies on the holistic and innovative program known as Lee Silverman Voice Treatment (LSVT). Each plan incorporates evidence-based LSVT strategies for improved movement, speech, and emotional and cognitive changes associated with Parkinson's and other movement-related disorders.
LSVT therapy involves training the brain to modify or adapt through exercises that lead to functional improvements in everyday movement (LSVT BIG) and speech (LSVT LOUD). Patients learn to exaggerate movement patterns leading to smoother, more significant, and safer movements, and to adjust voice levels while speaking in different settings. The result is comfort, confidence and a better quality of life for patients suffering from Parkinson's. Certified LSVT therapists administer all LSVT treatments. In addition to treatment, MorseLife offers the unique opportunity for family and caregivers to find the support and education they need through group meetings and counseling sessions.