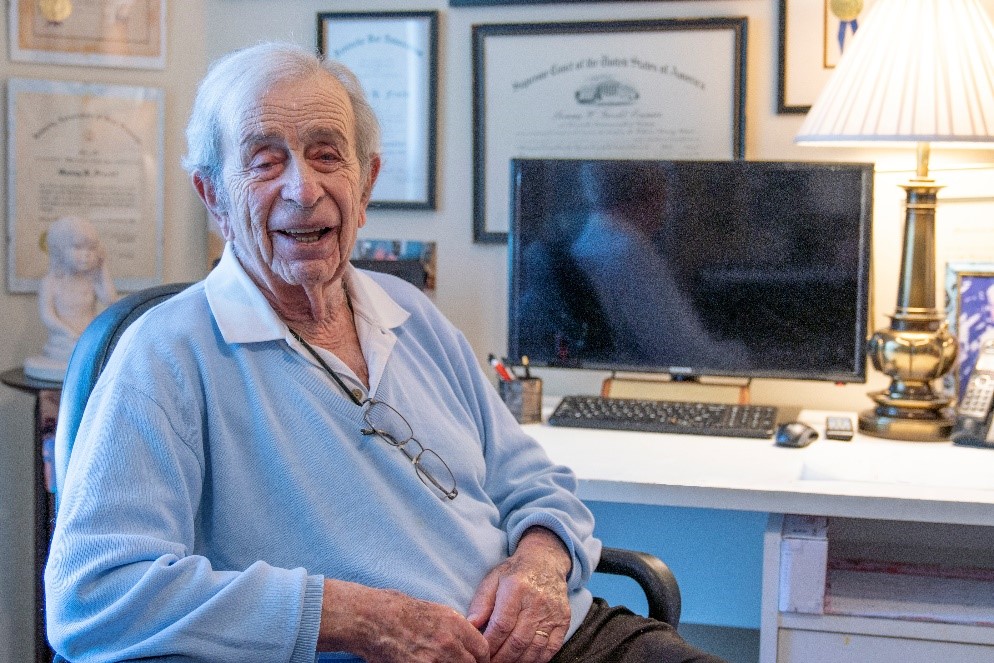 MorseLife Resident and World War II Ghost Army Veteran to Soon be Honored with a Congressional Gold Medal of Honor
MorseLife resident Manny Frockt is one of nine surviving members of two top-secret World War II military units called the "Ghost Army." Thanks to the recent passage of congressional legislation, Manny will finally be awarded a Congressional Gold Medal for his service 75 years ago.
In World War II, Manny served in the 3133 Signal Service Company Special, which handled sonic deception for the Ghost Army, a classified "tactical deception unit." Manny enlisted at 21 and was sent to New York to train for a "top secret" troop of about 1200 men whom the "bigger army" used when they needed to pull out of an area. They would send the "ghost army" in who would use inflatable tanks, sound effects, and imagination to fool the Germans on the battlefields of Europe, making the enemy think the "bigger army" was still there.
Manny himself was in the "sound effects" troop as he explained, "They would open the back of these big tractors and play recorded sounds of men's voices, yelling, gunfire, grenades, engines until the Nazis either backed off or until the "bigger army" had enough time to move their troops elsewhere. It was easier for the ghost army, which consisted of 1200 men or so, to move without being noticed than the average 15,000-man troop."
The Ghost Army started in Normandy and lasted for three years until Paris was liberated. The units did a total of 19 missions. Unfortunately, Manny was medically discharged due to severe frostbite in his feet.
Members of the Ghost Army saved thousands of lives and helped win the war, but their efforts and contributions were classified for over 40 years. Congratulations, Manny, on this long-awaited recognition. We are so proud to know you, and it is a pleasure to have you as part of our MorseLife community!