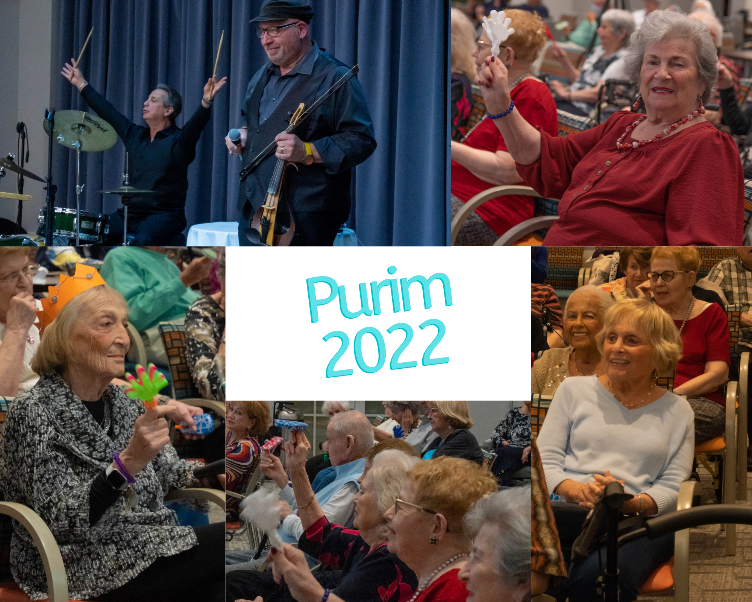 MorseLife Residents Celebrate the Joy and Wisdom of Purim
Celebrating Purim at MorseLife is a great example of what we mean when we say that MorseLife is More Life. The festive celebration is a time to set aside our worries, have fun and get loud with friends at every mention of evil Haman's name. It's a joyful holiday for people of all ages who love the idea of parading in costumes of Mordecai and Queen Esther, eating hamantaschen cookies and making lots of noise with groggers. It's also about the commandment to open our doors and our hearts, welcoming old friends and new so that everyone stays connected. What a great message after the period of quarantine we've all been through!
In fact, Purim is a holiday rich in timeless lessons. It means "festival of the lots," after the type of lottery that Haman used in his ill-fated quest to exterminate the Jews. The story comes from the Megilla and takes place in the ancient kingdom of Persia, now known as Iran. It is about the dangers of power and ambition and the possibility for resilient people to triumph against the odds, as well as a reminder of the importance of togetherness and charity.
Here at MorseLife, we appreciate how important it is to stay connected with each other and celebrate the blessings we see around us every day. Our Purim festival was a joyful event in every way, with music, fun, participation and the opportunity to share our personal memories. Our auditorium was filled with smiling faces as we set aside our worries and simply had fun. And since the Talmud instructs us to drink on celebratory holidays, let's all raise a glass in the spirit of Purim and say L'Chaim!