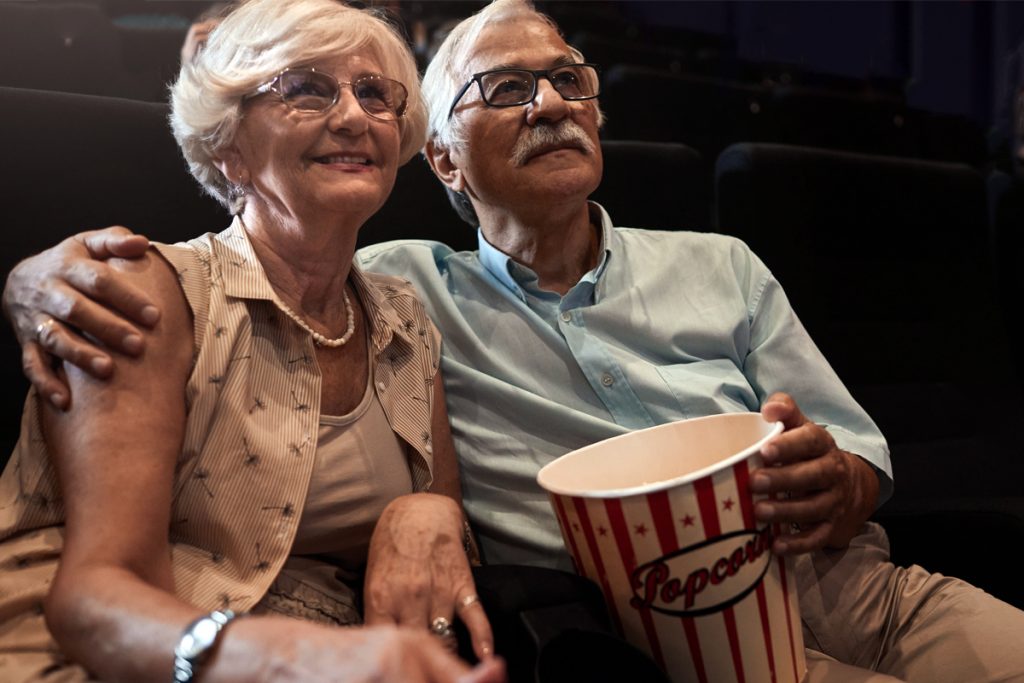 MorseLife Residents Enjoy Donald M. Ephraim Jewish Film Festival Series at Home
Over the years, many of our residents have been fortunate to attend and enjoy the Donald M. Ephraim Palm Beach Jewish Film Festival, which brings exceptional cinematography focusing on Jewish issues, people, art and culture to South Florida.
Mr. Ephraim has now made it possible for MorseLife Foundation to offer an exceptional series of five films to our residents as part of our Life Enhancement Program, in the comfort and safety of their residences.
The series begins with Crescendo, the story of a world-famous conductor who must use all of his skills and resources to create an Israeli-Palestinian orchestra and to overcome the discord among the musicians and get them to play in harmony.
Nominated for four Israeli Academy Awards including Best Actor, the Israeli psychological drama Echo continues the series. Suspecting that his wife is cheating on him, a man heads down a rabbit hole of extreme measures. This true-to-life depiction of an unraveling relationship is a somber meditation on the intersection between love and obsession and the fateful damage of words unheard or unsaid.
The Keeper is based on the true story of Bert Trautmann, a German soldier and prisoner of war  in WWII who, against a backdrop of British post-war protest and prejudice, secures the position of Goalkeeper at Manchester City, and in doing so becomes a football icon. The film was honored with the Bavarian Film Award for Best Production and the Best Actor Award at the Beijing International Film Festival.
The Israeli film Love In Suspenders is a sweet, romantic tale of two widowers who find love notwithstanding their differences in lifestyle and personality, and their interfering offspring and neighbors.
The engrossing documentary Fiddler A Miracle of Miracles takes its title from one of the songs in Fiddler on the Roof and traces the origins, incarnations and influence of that beloved stage musical based on tales by Sholem Aleichem. Opening in 1964 and running for eight years before becoming a blockbuster movie, the musical tells the story of a Jewish peasant in pre-revolutionary Russia who must contend with marrying his three daughters and gave the world the unforgettable song, "Sunrise, Sunset."
The series concludes with the Israeli documentary, Mrs.G celebrating how Holocaust survivor Mrs. Lea Gottlieb, known as "Mrs. G," created the world's most famous swimsuit company.  Mrs. G started Gottex in her tiny Tel Aviv apartment and climbed to the pinnacle of the glamorous fashion world through endless creativity, unbridled passion and a dominant personality.
MorseLife Foundation raises funds to improve the lives of all seniors in our community and programs such as these allow individuals to enjoy and explore life to the fullest.