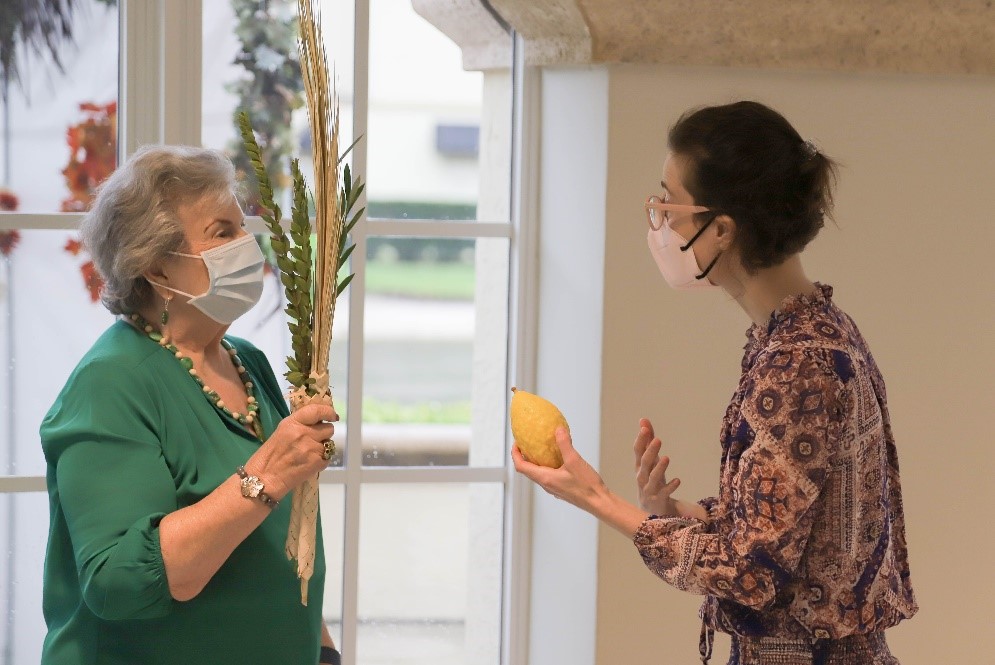 MorseLife's Rabbi Erica Rosenkranz Leads Residents in a Sukkot Celebration
MorseLife residents and employees recently gathered to celebrate Sukkot, the "Feast of Tabernacles," which celebrates the harvest and commemorates God's miraculous protection for the children of Israel's departure from Egypt. It is one of the three Jewish pilgrimage festivals, along with Passover and Shavuot.
The Purim celebration was part of MorseLife's JewishLife initiative, created to engage residents, families, members of the community, and employees through religious, ritual, and spiritual events.
To mark the occasion, MorseLife created a foliage-covered sukkah. Rabbi Erica Rosenkranz, director of JewishLife and director of community engagement for the NOW for Holocaust Survivors Initiative at MorseLife, led residents in the ceremonial waving of the lulav (palm branch), aravot (two willows), hadassim (three myrtles), and etrog (citron), symbolizing levels of Torah knowledge and together representing Jewish unity.
MorseLife's JewishLife initiative includes year-round religious services for Shabbat, Havdalah, Rosh Chodesh, Kaddish, and special healing services. Holiday programs such as Purim costume parties and Hamantaschen baking, Shabbat Challah Bakes, and Passover Seders, along with Klezmer bands and Israeli dancing performances, bring Yiddishkeit to life at MorseLife. Lively current events discussions focus on worldwide events through a Jewish values lens. In addition, pastoral counseling for residents and their families is available, as are Jewish lifecycle traditions such as baby naming ceremonies.